In order to park your car close to the Event Mobility stand at Badminton, it is strongly recommended to purchase an Advance Car Pass, Personal Admission Tickets and Disabled Windscreen Label from the Badminton Box Office (01454) 218375 or email: boxoffice@badminton-horse.co.uk.
Advance booking only which closes on Tuesday 26th April 2022
N.B. without the above you cannot be guaranteed to be able to park in the Main Disabled Car Park adjacent to Event Mobility.
Our stand is in the corner of the Main Disabled Car Park close to the Main Arena.  Full directions will be sent out to you by the Badminton Box Office with the Car Pass.
If you arrive without an Advance Car Pass, make sure you have your own Disabled Blue Badge pass and you MUST approach Badminton from the A46 at Dunkirk Crossroads, pay for parking at the gate and then explain to the Car Parking Staff that you want to go to the Main Disabled Car Park.
It is completely impossible to drive from one Car Park to another at Badminton so it is essental to come in the right way.
To enlarge right click on image and open in new tab
Site plan for 2019 for reference. 2022 plan to follow.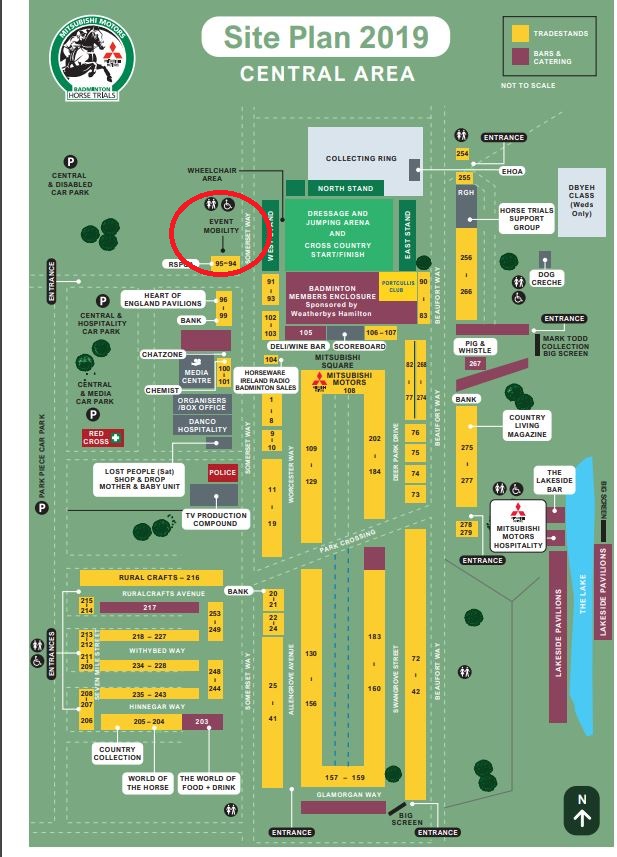 Electric Scooter

£30.00

Available

Manual Wheelchair

£10.00

Available